Brief portrait of the artists: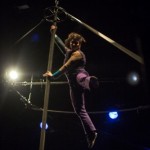 Serena Vione
Chinese pole
Serena is a circus artist and a professional instructor.
She arrived in Catalonia in 2006 coming from Torin. Here she she founded El Circ Petit company with which she created various shows that tour Europe.
Her last creation, ITER, premiered in August 2014 at the Aurillac Int. Street Festival and was performed in 2015 at Fira Trapezi and Fira Tàrrega.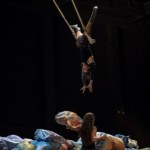 Lola Ruiz
Fix and swinging trapeze / Chinese pole
Lola is a trapeze artist with a big sense of clown and comic. She is member of Lady Cocktail, a uniquely feminine company. Together they tour around the world.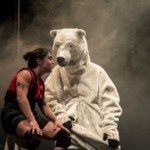 Jessica Martín
Clown / stunts
Jessica is the comical character who brings a lot of madness.
She finished the Fratellini Academy in 2013 where she specialized as a clown-acrobat. Then she joined the Théâtre de l'Incendie to perform in "Richard the IIIrd".
While performing in different productions, she goes on training as a hospital clown and at the Campus Univers Cascades.
Juana Beltran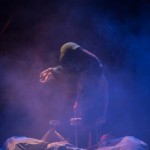 Hand balancing / knife throwing
Juana started studying sports and artistic gymnastics at the age of 4. Her professional training moved her towards circus Arts.
She studied different disciplines and specialized in hand balancing developing a very personal and unique approach.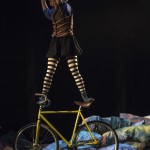 Jessica Arpin
Acrobatic bicycle / speaking BACKWARDS.
Jessica Arpin is a world animal, polyglot and nomad.
She trained at the Montreal circus school in acrobatic bike and clown. Her solo street show "Kalabazi" has been performed 600 times in 24 countries. She speaks six languages… times 2… as she can speak all of them… backwards.